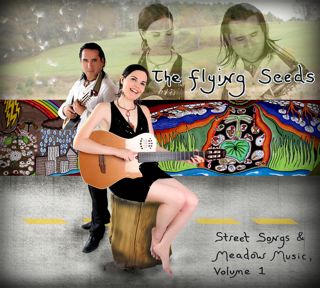 Welcome to The Flying Seeds' website! We are an original Andean / New England band formed in 2011 by  Lenin Sabino, multi-instrumentalist / composer / arranger from Peru, and Emily Sabino, songwriter / singer / nature devotee from New England.

We have returned to the Boston area after spending a beautiful snowy winter up in Maine. Our plans went a bit differently that originally expected, but all things happen for a reason, so… We have some brand new songs posted on the "songs" page, and the full album will be done sometime before the end of the summer, with any luck at all. (Wish us luck!)

If you aren't already on our mailing list, sign up here, and we'll let you know when we're performing again. And please feel free to "like" us on Facebook, too! (See the button to the right of the album cover, above.) Thanks! 
Want to book us for a performance? Have a question or a comment? Just fill out the form below.